Braveheart's
Aseel World
Picture Gallery (rare Aseel varieties)
Bearded-Aseel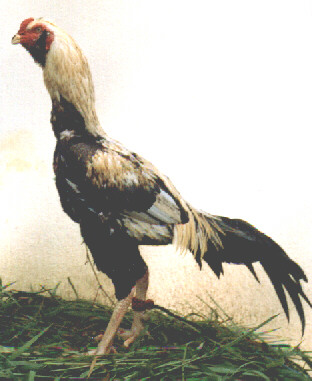 South Indian -bearded-Aseel (owned by Mr.Mullapudi Narendra Nath from Hyderabad/India). Bearded Aseel are also seen in Iran. But outside Western Asia, the bearded Aseel is very rarely seen.
Crested-Aseel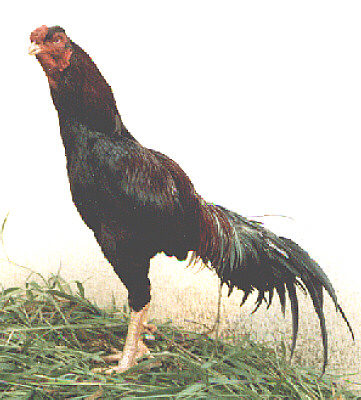 South Indian -crested-Aseel (owned by Mr.Mullapudi Narendra Nath from Hyderabad/India). I never have seen -crested- Aseel on any other pictures. So this picture is really one of a kind.
Madaroo-Aseel
These are hennyfeathered Aseel.They range from cocky looking birds with hen type rounded edged feathers to specimens which look completly like hens. Blackish coloured known as "siyah madaroo" are regarded the best Aseel. However such birds are rare.

Bihangam-Aseel
These are birds whose phenotype or external apperance show a throwback to the Red Jungle Fowl. They have a big, either completly or partially upright comb, with deep edges like that of ordinary poultry, as well as normal sized wattles. In all respects they resemble Aseels and are considered to be superlative fighters. Such birds are also very rare.

Desi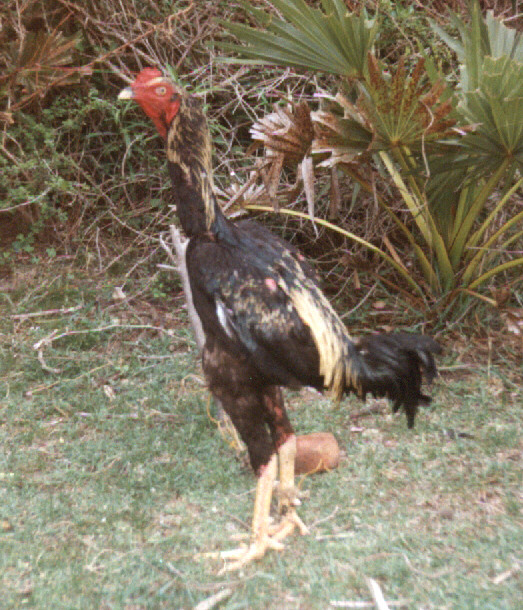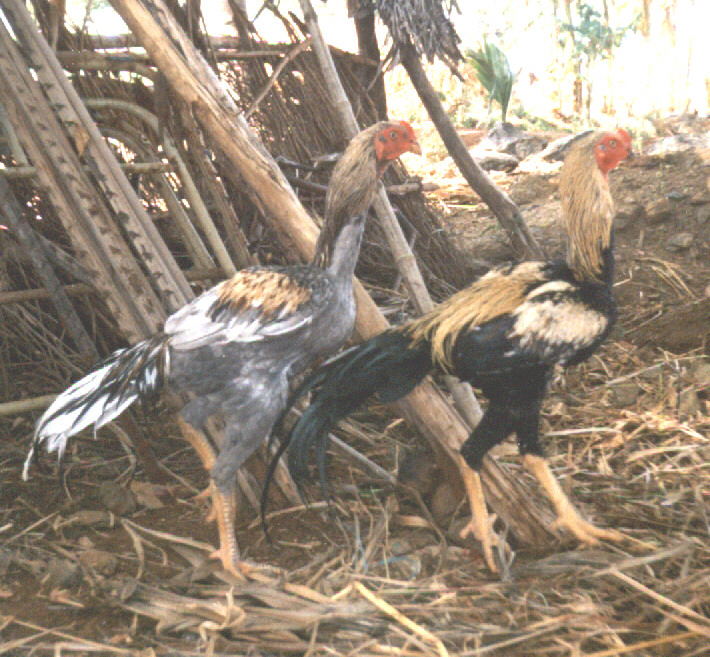 Picture source: Mr.Anurenj from Kerala State (Southern-India)
Birds similar to the ones displayed above are the result of crosses between Aseel x local poultry breeds. Their appearance is a mix of Aseel, Malay and/or Bankiva breeding points. Many birds of this type can be found on the street. Pit qualities range from very poor to pretty good but none gets as good as a purebred Aseel.
"Desi" or Fighting "Malay" (?)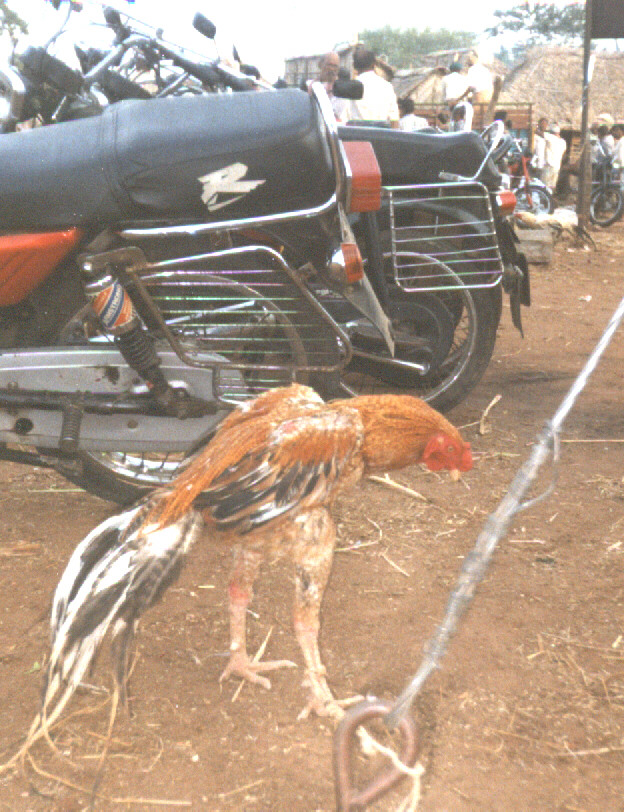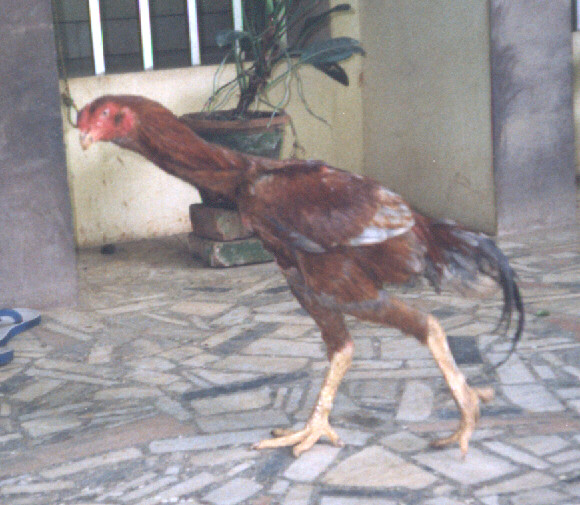 Picture source: Mr.Anurenj from Kerala state (Southern-India)
Many tales are told about the Malay. Were do they come from ? What is their origin. Many Malay-like birds are found between West and Southeast Asia. Some of the "Desi" crosses have a remarkable similarity with the Malays of today. The bird displayed on the left for example is very high stationed. The bird on the right is perfect Malay matching European Malay breeding standards. However this is crossbred. A lot of these "Desi" crosses show walnut or peacombs. I strongly assume that the Malays overhere in Europe and elswhere are the one and same birds as the "Desi" crosses of today, this -poor mans- fighting bird was easy to get on markets or in agricultural areas. Probably such were purchased by members of the British colonial army or administration personnel, being imported into Great Britain on their return or leave. A different ballgame seemed to be the purchase of the highly valued Reza Aseel which even for the British was near to impossible (with exemptions). This according Herbert Atkinson from England, a keen observer and leading gamefowl authority from the pre 2nd World War period. He died in 1938. A final note: many "Desi" are locally known under a variety of names.
Remarks
The majority of all Aseel-breeders is not aware of the existence of these varieties and are regarded as -crossbreds- or -mongrels-. Again this proves that the Aseel is complex breed and that we must rely on the information of breeders and/or clubs living in the Aseel's homelands (India, Pakistan, Sri Lanka and Bangladesh). Only space is the final frontier...so keep on the lookout for interesting Aseel information. Please let me know.
PLEASE DO NOT CONTACT ME ABOUT PURCHASE OF THE ASEEL DISPLAYED ABOVE. THESE ARE ONLY EXAMPLES TO SUPPORT THE INFORMATION CONCERNING THE KULANG FAMILY.