Braveheart's
Aseel World
Picture Gallery (Kulang-Aseel)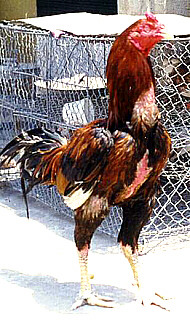 Calcutta Aseel (owned by Imtiaz Qasem from Calcutta-India) the Calcutta is a slender build version of the Reza-Aseel. More agile and with a longer reach.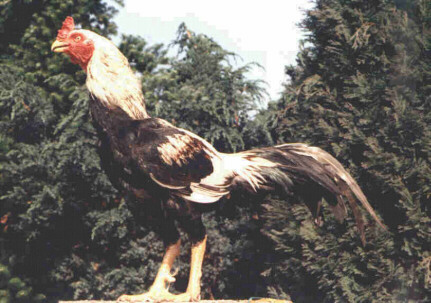 North Indian Aseel (owned by Jean Marie.Vangansberg from Belgium)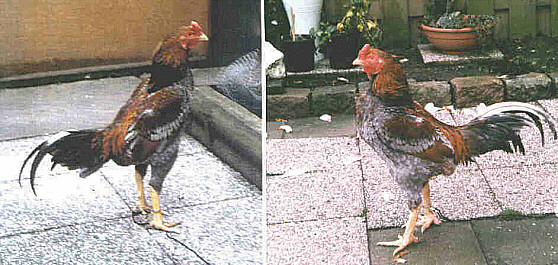 Madras Aseel (bred and owned by Willem.van Ballekom from Eindhoven/Holland) left 1 year and right 2 years of age, it clearly shows the development from a slender to a heavy, broad build bird.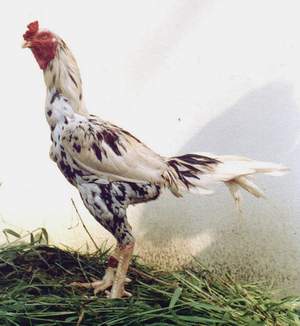 South Indian Aseel (owned by Mr.Mullapudi Narendra Nath from Hyderabad/India).
PLEASE DO NOT CONTACT ME ABOUT PURCHASE OF THE ASEEL DISPLAYED ABOVE. THESE ARE ONLY EXAMPLES TO SUPPORT THE INFORMATION CONCERNING THE KULANG FAMILY.
Large Aseel, names and varieties
The large Aseel group is prone to many discussions when it comes to classify this family. The older literature only indentifies 3 varieties: Madras, Hyderabad and Calcutta Aseel. Modern Indian sources indentify them as Calcutta, Madras, North and South Indian type. Some simply divide the Aseel breed in a Reza (small) and Kulang (large) type. I also have difficulties to make the proper choice. However the -Modern System- suits me well.