Braveheart's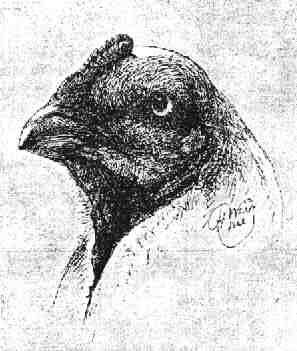 Aseel World
My own birds (page 2)
My main interest is the Aseel, but beside this breed I also have some other breeds like: Chu-Shamo, Tuzo, Sumatra and Hint Horoz (Turkish Game). See some pictures below of these birds.
Chu-Shamo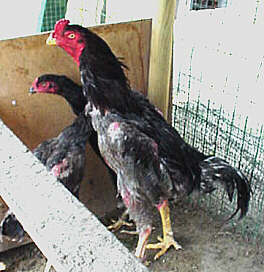 The Japanese Chu-Shamo is the mediumweight and sized version of its bigger counterpart the O-Shamo. All physical features for the O-Shamo also apply for this smaller -pocket rocket-. (bred by Braveheart/NL)
Tuzo (Nankin-Shamo)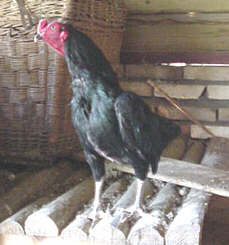 The small-sized Tuzo is a bit of a mystery bird inside the gamefowl breeds. Dispite officialy classified as Japanese gamefowl the name -Tuzo- does not appear any of the Japanese poultry publications. Japanese breeders clearly indentified them as -Nankin-Shamo-. It is a very agressive breed and not simple to raise as young chicks very often start up fighting. Weight range: from about 1.2 to 1.8 Kg (2.6 to 4 Lbs). (Bred by Braveheart/NL)
Hint Horoz (Turkish Game)

The Hint Horoz is the national gamefowl breed of Turkey. The breed is similar to large Aseel. Most likely the Hint was introduced into Turkey during the early days of the Turkish Ottoman Empire. This is simply a fact confirmed by the breeds name -Horoz- (= gamecock) and -Hint-(= Hindustan, the Turkish word for India). Turkish peasants have also crossed the Hint with local Turkish poultry breeds and therfor a difference in size, weight and features sometimes can be observed. (bred by Braveheart/NL).
Sumatra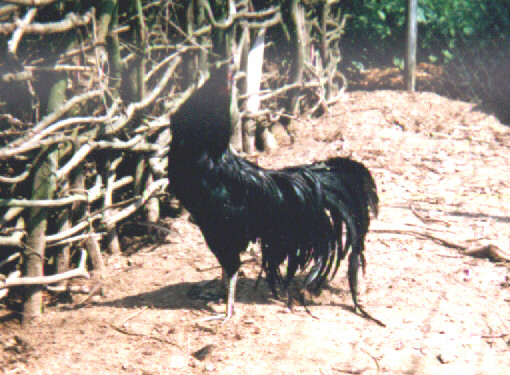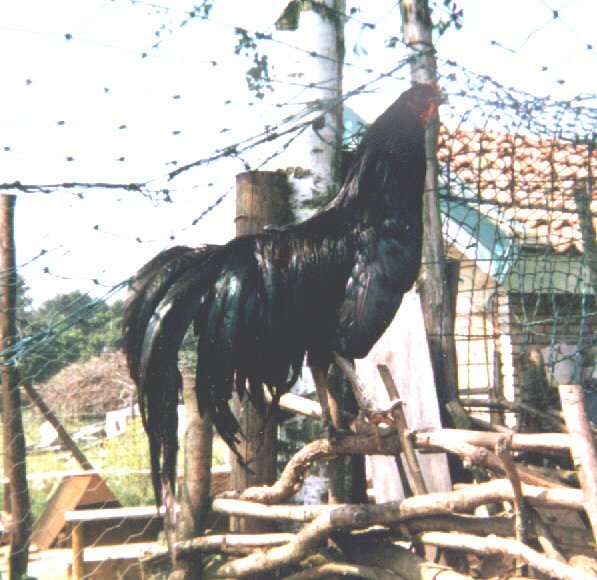 The Sumatra, a gamefowl breed from the Isle of Sumatra (Indonesia) is often seen as a pure ornamental breed. This is not very accurate as the Sumatra was introduced into the US around 1850 as a pit bird. It performed well both pure and crossed. Still today some strains are really game. They are very agile, rapid and high flyers. I simply keep them because they are simply an attraction to every poultry yard.(bred by Braveheart/NL)
.ANYONE INTERESTED IN GETTING LIVE BIRDS OR HATCH EGGS FROM ME CAN OFCOURSE SEND ME AN EMAIL, I WILL ANSWER EVERYONE, BUT PLEASE FIRST INFORM YOURSELF ABOUT THE IMPORT REGULATIONS OF YOUR OWN COUNTRY OR STATE. FOR BREEDERS FROM THE UNITED STATES IT IS VIRTUALLY IMPOSSIBLE TO IMPORT LIVE BIRDS (see APHIS/USDA websites for detailled info). EMAILS NOT STATING TRUE NAME AND COUNTRY I WILL DELETE IMMEDIATLY. ALSO DONT ASK FOR A CATALOG (I dont have one) PICTURES (to costly) FOR ADDITIONAL INFORMATION (please visit the Asian Gamefowl Society Breed Database or AGS Country Pages)
WITH SPORTIVE REGARDS,
Willem "Braveheart" van Ballekom (Netherlands)
Braveheart Info Pages
PHOTO GALLERY (RARE VARIETIES)

Make Gamefowl Friends allover the World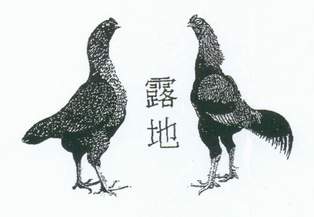 Asian Gamefowl Society