Braveheart's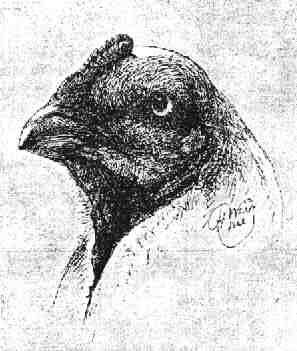 Aseel World
My own birds
Over the years I tried my best and I have put in some substantial effort to preserve and improve typical shape, type, breeding points and gameness of my birds. One of my goals is to get hold of good Indian or Pakistani Aseel bloodlines. End of 2001 I got in contact with some good Indian and Pakistani friends who are keen to get me on the right track towards Aseel breeding. Without help of good friends and valuable contacts you are nowhere. Many Aseel have been crossbred or have degenerated due to careless selection. Preservation of quality bloodlines and this especially outside the classic -Aseel- homelands is a goal we Aseel-breeders all over the world must aim at. It is a pity that commercial interests are in many cases the only engine which keeps breeders going. We see a lot of fantasy names and varieties mentioned even the breeders in the homelands never heared of. But thats life. A final word, go for the best and keep focussed onto your objectives. Also keep in mind...Stick to the good people....let go of the others. It is simply a waste of energy, trust and efforts.
My Aseel
North Indian Aseel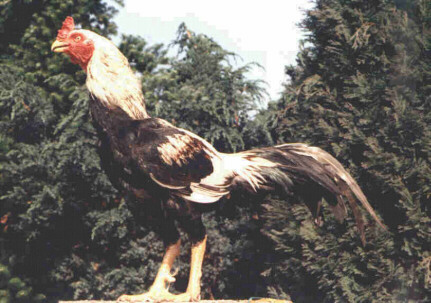 His son was one of the founders of my strain. This bird was imported from the Indian/Pakistani border by Jean Marie Vangansberg (Belgium).
North Indian Aseel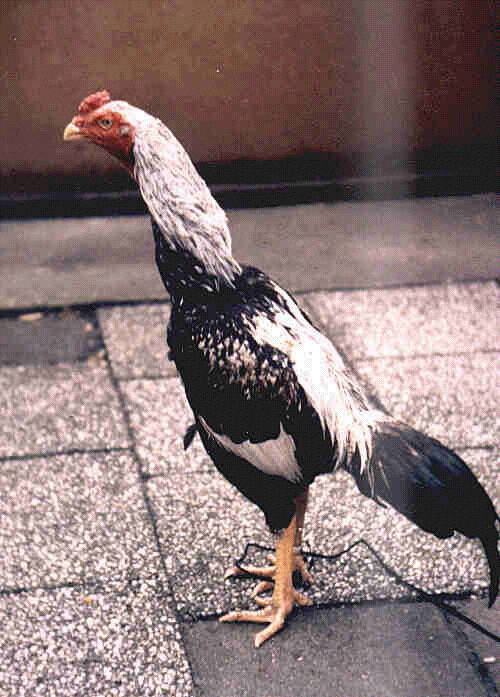 Grandson of the bird above at an age of about 1 year. A real good bird and for sure one of amy personal all time favorites (bred by Braveheart/NL)
. South Indian Aseel (Madras-type)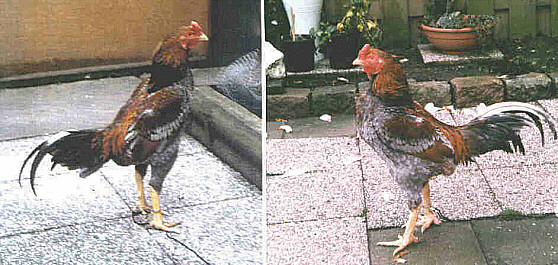 Both birds are the one and the same, however this combined picture shows the growth of a Madras Aseel. Slender at the age of a stag they grow into broad, (relative) low stationed, strong boned birds. (bred by Braveheart/NL)
South Indian Aseel (Madras-type)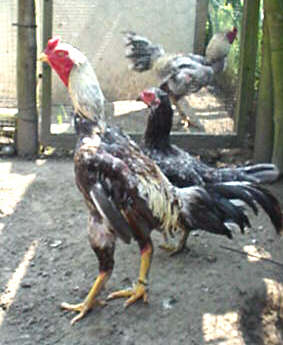 One of my birds named "Thicktoe" caught at the age of a stag. He still has some time to go before he will gets his mature size and shape. Always give Aseel like other Malayoid fowl time to develop (bred by Braveheart/NL)
South Indian Aseel (Madras-type)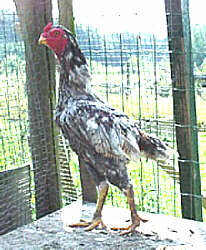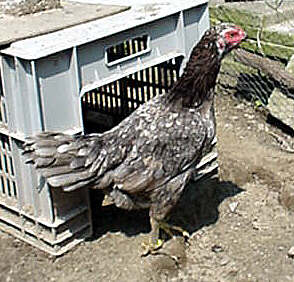 On the left another stag named "Fathead" same as the one above he needs some time to reach maturity (bred by Braveheart/NL). On the right a fine matured Madras Aseel hen which was bred by my Aseel buddy Hartmut "Hardy" Vieregge from Germany.This hen clearly shows the very typical broad, lowset body profile which is one of the typical marks of this Aseel variety.
North Indian Aseel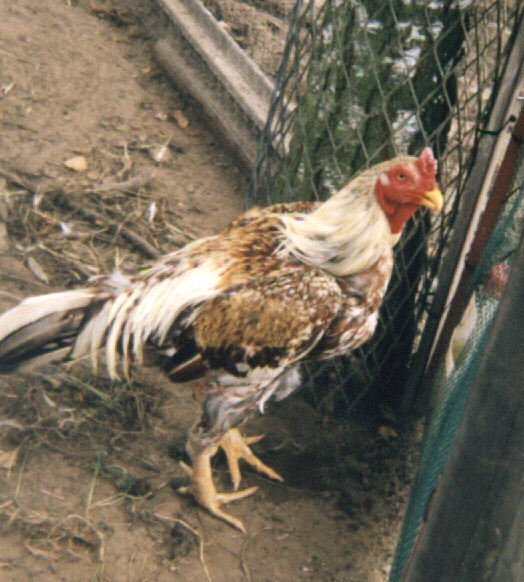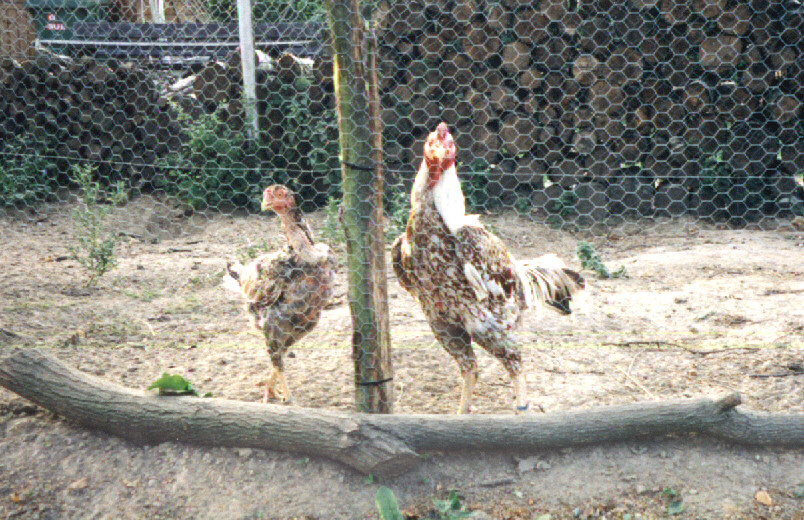 My North Indian Aseel "Bully" was also one of my all time favorites. Ever since his first crow he was a display of power and agression. A beak like a vice ripping everything apart he could get. Dispite his behaviour being a notorius "man-fighter" I liked him to the end (struck by a heart attack). On the right you see his impressive profile and his daughter (bred by Braveheart/NL)
North Indian Aseel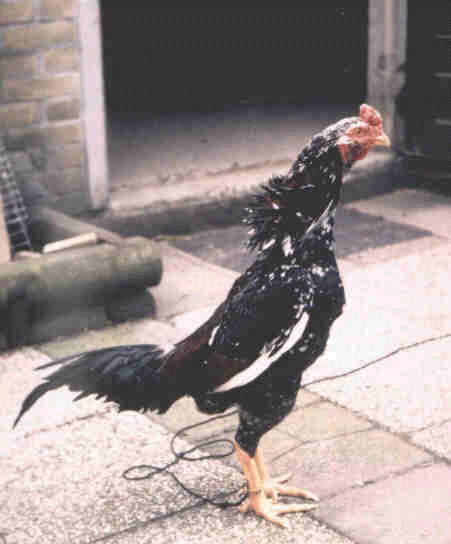 My first own bred North Indian Aseel. A bird big in size and weight. Pityfull he passed away due to a disease. Anyone will have expirienced the same, the first victims are always your best birds (bred by Braveheart/NL).
.ANYONE INTERESTED IN GETTING LIVE BIRDS OR HATCH EGGS FROM ME CAN OFCOURSE SEND ME AN EMAIL, I WILL ANSWER EVERYONE, BUT PLEASE FIRST INFORM YOURSELF ABOUT THE IMPORT REGULATIONS OF YOUR OWN COUNTRY OR STATE. FOR BREEDERS FROM THE UNITED STATES IT IS VIRTUALLY IMPOSSIBLE TO IMPORT LIVE BIRDS (see APHIS/USDA websites for detailled info). EMAILS NOT STATING TRUE NAME AND COUNTRY I WILL DELETE IMMEDIATLY. ALSO DONT ASK FOR A CATALOG (I dont have one) PICTURES (to costly) FOR ADDITIONAL INFORMATION (please visit the Asian Gamefowl Society Breed Database or AGS Country Pages)
WITH SPORTIVE REGARDS,
Willem "Braveheart" van Ballekom (Netherlands)
Braveheart Info Pages
PHOTO GALLERY (RARE VARIETIES)

Make Gamefowl Friends allover the World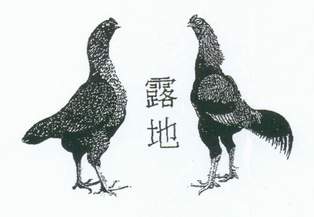 Asian Gamefowl Society